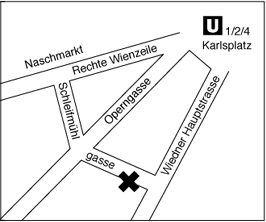 Kerstin Engholm Office
Schleifmühlgasse 3, A-1040 Vienna
office@kerstinengholm.com
Gallery Program
The Kerstin Engholm Gallery was founded in 1999 by Kerstin Engholm.
Since the beginning Kerstin Engholm is directing the program, which focuses on the exchange of young Austrian and international artists that work with a strong conceptual approach in different media. The gallery's work is tightly connected with the artistic process of production and thus strives to achieve a high level in the mediation of art. The gallery also helps to produce room filling, museum like temporary installations and projects in close cooperation with the artist.
Most of the exhibitions originate in relation to the specific gallery location and instead of serving a consumerist approach, they usually confront the viewer with a specific intervention. Because of this approach the artists have the possibility of producing works of art, which could not be generated in their own production context. Along with solo shows the gallery also presents thematic group exhibitions discussing issues of art-critical relevance. Lectures, discussions and readings place the artworks in their political, scientific and social surroundings.
A striking feature of the gallery is the open structure of its premises, which gives an insight into the daily business of an art gallery and also enhances an intensive debate with the visitors concerning the presented artwork.
Since the beginning the gallery succeeded in establishing close relationships with major museums and cultural institutions in Austria and internationally. Moreover the Kerstin Engholm Gallery managed to create a strong group of young Austrian collectors.
In 2017 the gallery transformed from a classical gallery model into a more fluid structure. We are continuing on advising international private and corporate collections of contemporary art and work on external exhibition projects with Austrian and international artists.