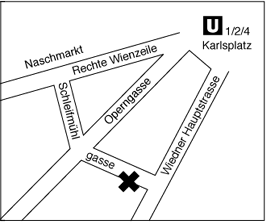 KE Kunsthandel GmbH
Schleifmühlgasse 3, A-1040 Vienna
T +43 1 585 73 37 · F +43 1 585 73 37-10
office@kerstinengholm.com
FBNr.: 246060 D
Firmenbuch Gericht Wien
UID Nr.: ATU 57899625
Opening Hours
Tuesday through Friday 11–18,
Saturday 11–15
Gallery Program
The Kerstin Engholm Gallery was founded in 1999 by Kerstin Engholm and then turned into the Engholm Engelhorn Gallery, after Klaus Engelhorn had joined as an associate between 2004 and 2009.
Since the beginning Kerstin Engholm is directing the program, which focuses on the exchange of young Austrian and international artists that work with a strong conceptual approach in different media. The gallery's work is tightly connected with the artistic process of production and thus strives to achieve a high level in the mediation of art. The gallery also helps to produce room filling, museum like temporary installations and projects in close cooperation with the artist.
Most of the exhibitions originate in relation to the specific gallery location and instead of serving a consumerist approach, they usually confront the viewer with a specific intervention. Because of this approach the artists have the possibility of producing works of art, which could not be generated in their own production context. Along with solo shows the gallery also presents thematic group exhibitions discussing issues of art-critical relevance. Lectures, discussions and readings place the artworks in their political, scientific and social surroundings.
A striking feature of the gallery is the open structure of its premises, which gives an insight into the daily business of an art gallery and also enhances an intensive debate with the visitors concerning the presented artwork.
During the last years the gallery succeeded in establishing close relationships with major museums and cultural institutions in Austria and internationally. Moreover the Kerstin Engholm Gallery managed to create a strong group of young Austrian collectors.
Artists (current list)
Angela Bulloch
Anna Jermolaewa
Björn Dahlem
Claus Föttinger
Constanze Ruhm
Daniel Pflumm
Dirk Skreber
Drago Persic
Hanspeter Hofmann
Hans Schabus
Hendrik Krawen
Mark Hosking
Misha Stroj
Monika Baer
Ryan Mosley
Yael Bartana
Location
The gallery is located in the emerging 4th Viennese district, surrounded by important institutions such as the Vienna Secession, the Generali Foundation, the Kunsthalle Vienna, the Museum Quarter and other contemporary galleries. Kerstin Engholm Gallery is marked by an open structure, the office and production areas being visible and accessible to the public, thus allowing some understanding of the daily work routine in a gallery, and also an impression of organisation structures within the art world.
If you need further assistance please don't hesitate to contact us in any terms.
Thank you for visiting
Floorplan
(gallery space 175 m²)